Boulder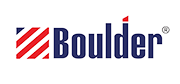 Specialized in CBD Vape Products
Boulder International is an electronic cigarette company that markets a line of vaporizers. The three different models they offer are the Aspen Air, the Aspen Slim and the Rock. At first, they were an exclusive and expensive line of vapes, but they have since widened their market and lowered their prices. While they do also sell their own brand of e-liquid, it is not hemp- or CBD-based.
The vapes come in a number of colors like red, blue, dark grey and champagne gold – except for the Rock vapes, which only come in a black finish. Both the Aspin Air and the Aspen slim are cylinder vape pens, but the Rock vape is flatter and more rectangular.
Boulder vape pens work just fine with any smokable liquid, including hemp- and CBD-based vaporizer oils. Consequently, if you have a favorite hemp-based e-cig oil blend, you can fill their refillable vape pods with that. However, note that Boulder designed the pods for Aspen Air, the Aspen Slim and the Rock e-liquids specifically. Therefore, you will need some kind of narrow nozzle or funnel to pour into the pod's refilling port.
All of the Boulder vape pens come with their own USB compatible chargers and cabling, and with either replacement tanks or tank covers. Plus, the Aspen Air has a replaceable mouthpiece and heating element, sold separately from the manufacturer. The charger repowers the vape pen in as little as 45 minutes and the charge lasts up to 8 hours.
Dr. Ganja carries the Boulder Rock vape pen and the refillable pods in a 2-pack.
Boulder CBD Products
No products were found matching your selection.