All Products on Dr.Ganja Contain 0.3% Δ9-THC or Less
Cannabomb is a company that was founded and established in Oregon by its sole proprietor, Jenna Hensley. The company takes a firm stance on the ways cannabinoids can help enhance daily living, and provide incredible comforts when used responsibly. The foundation of this company is developing products that nurture the largest organ of the body: your skin.
The products of Cannabombs are produced from lab tested, Colorado grown cannabidiol extract that comes from hemp. Additionally, the products are further enhanced by being combined with therapeutic grade essential oils, and other natural ingredients. The company has a clear vision and believes that soaking the skin in the finest ingredients can lead to a much healthier way of living. The products are hand-crafted and at this very moment, Dr.Ganja carries a variety of CBD bath bombs and soaking oils.
Showing 13–13 of 13 results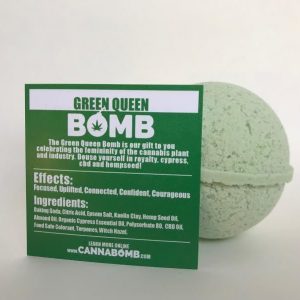 Ever just wanted to let your worries melt away, into a warm fizzy bath filled with… cannabidiol? That's right. You can now take a bath with a cypress essential oil CBD-infused bath bomb, helping your body unwind and destress as your mind relaxes. Product Size 100 mg CBD. Suggested Use Draw a bath. Let bath …
Continue reading CannaBomb Green Queen CBD Bath Bomb 100mg
Add to cart