Product Description
CBD For The People Tea Tree Salve, with 400mg CBD in every container, provides soothing relief for pain, scrapes, bruises and other discomfort of muscles and skin.
Infused with antiseptic and refreshing tea tree oil, this salve is easy to use and easy on the skin.
Product Size
2oz 400mg CBD
Suggested Use
Rub firmly but gently into the affected area. Be sure to wash hands after applying; may feel cool on the skin.
Ingredients
Unrefined organic shea butter, unrefined organic coconut oil, and organic candelilla vegan wax.
Questions & Answers
There are no questions yet. Be the first to ask a question about this product.
Recent Items Viewed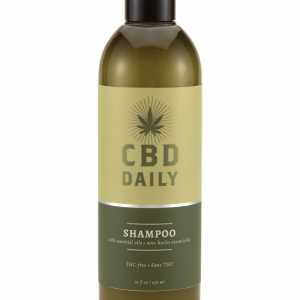 CBD Daily Shampoo combines CBD with Hemp Seed Oil, Peppermint Oil, and Argan Oil to rejuvenate roots as well as moisturize dry scalp. This unique blend will leave your head and hair feeling in its prime condition and is safe with all hair types as well as color-treated hair. This CBD shampoo is 100% Vegan …
Continue reading CBD Daily Shampoo
Add to cart