Product Description
CBDfx CBD Vape Pen Blue Raspberry provides a fresh breath of CBD, plus a candy-tastic Blue Raspberry taste that complements its effects perfectly.
Made with 30mg of full spectrum CBD, this vape pen is a simple and easy way to supplement CBD at any time of day.
Product Size
30 mg CBD.
Suggested Use
Dr.Ganja recommends you try 1-2 inhales hourly or as needed. Once you've established what your baseline is, dose as needed.
Ingredients
Proprietary blend of Cannabidiol (CBD), vegetable glycerin, propylene glycol and natural flavors.
Questions & Answers
There are no questions yet. Be the first to ask a question about this product.
Recent Items Viewed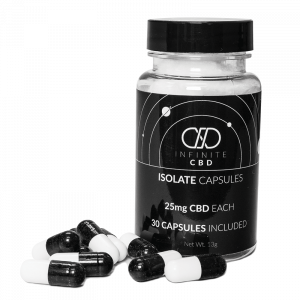 High potency users of CBD will look to Infinite CBD 25mg Capsules as the go to for the daily regimen of CBD. Infinite CBD capsules can provide a great option for someone who's looking to take an exact amount of CBD. In just one CBD capsule, the user will consume 25mg of CBD isolate. A …
Continue reading Infinite CBD Isolate Capsules 30ct 25mg CBD
Add to cart