Product Description
Using this skin care cream from CBDefine, part of CBDistillery, gives skin a much-needed boost of soothing cannabinoids. For softer and more supple skin, give CBD skin care a try.
Product Size
1 oz 500 mg CBD.
Suggested Use
First thing in the morning and last in the evening, smooth CBD cream over face, neck and body.
Ingredients
CBD, Olive Oil, Coconut Oil, Hemp Oil, Apricot Oil, Sunflower Oil, Almond Oil, Lavender, Frankincense, Rosemary, Tea Tree, Helichrysum, Aloe, Glycerin, Bee Wax, Grapefruit Seed
Questions & Answers
A

I don't believe this Skin Cream has Arnica. In regards to its effectiveness with neuropathic pain, it's hard to say since every case is fairly subjective (and of course I am not a medical professional); however, there have been multiple studies in rats showing positive results for many neuronal issues... multiple sclerosis... even certain types of neuropathic pain. So it MAY help. Here's the links to some of those studies if you're interested (I've linked the neuropathic ones that may be of more interest to you): https://www.ncbi.nlm.nih.gov/pubmed/22585736 https://www.ncbi.nlm.nih.gov/pubmed/17157290 Best of luck!
Recent Items Viewed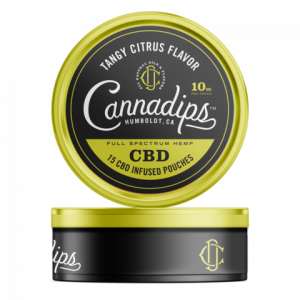 Perfect for boosting your mood and kicking anxiety and depression out the door, Cannadips all natural Tangy Citrus CBD pouches are a smokeless, spit-less alternative for getting your daily dose of CBD. Cannadips is a Humboldt County company that prides itself in carrying on the long standing tradition of setting the standard in CBD products …
Continue reading Cannadips Tangy Citrus CBD Pouches
Add to cart