D8 Distribution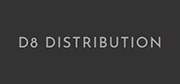 If you like delta-8 THC, then D8 Distribution company has some products you'll love. Those familiar with cannabis will recognize the slight buzz that comes from consuming delta-8 THC. It has all the benefits of the delta-9 THC. But this variety is without the brain-fogging psychotropic high. That's why it has become so popular among those seeking relaxation and pain relief.
Weed is great medicine, but this hemp-derivative has milder effects. Some consumers don't want to get stoned so much as get some effective treatment for what ails them. So, they take products like those made and marketed by D8 Distribution. And their merchandise is perfectly legal. That's because delta-9 THC levels are below the .03 percent level required by US laws.
The company makes their products from only the best source hemp. Then they harvest and refine, using that hemp in making up D8 Distribution's merchandise. Among their many wares are vaporizer cartridges and infused gummies. Vaping delta-8 provides effects within minutes. Delta-8 edibles take longer to kick in, but the overall benefits last longer. The company provides both options to its customers.
Whichever means used, delta-8 THC can help consumers with a number of complaints. Nausea and pain lessen with use. It's also good for stimulating appetite. In fact, it treats everything that cannabis users want medicated. And it does it without getting the user overly high. That's why D8 Distribution built their company around this lesser known cannabinoid.
Dr. Ganja currently carries some of the company's blue raspberry cube-shaped gummies.
D8 Distribution Products
Rated 4.42 out of 5 based on

12

customer ratings

$

39.00 Free Discreet Shipping & Easy Returns

Rated 5.00 out of 5 based on

1

customer rating

$

39.00 Free Discreet Shipping & Easy Returns