Product Description
Hemp-EaZe lip balm is the answer to all your chapstick woes. If you don't trust normal lip balm or chapstick to solve any dry skin issues, just realize that this isn't a normal lip balm. Made with hemp root, hemp seed oils and even more healing ingredients, Hemp-EaZe lip balm is one of our top beauty picks on Dr.Ganja.
This 1/2-oz container is lightly scented with sage and honey and doesn't just moisturize — it provides antiseptic benefits as well. Contains omega-3, omega-6 and omega-9 in all-natural forms. Paraben, petroleum and soy free.
Product Size
.5 oz.
Ingredients
Hemp root, hyssop, sage, honey, olive & hemp seed oils.
Questions & Answers
There are no questions yet. Be the first to ask a question about this product.
Recent Items Viewed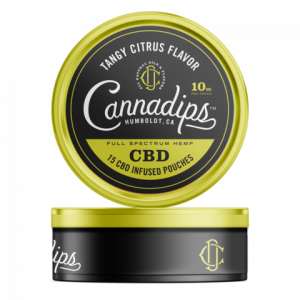 Perfect for boosting your mood and kicking anxiety and depression out the door, Cannadips all natural Tangy Citrus CBD pouches are a smokeless, spit-less alternative for getting your daily dose of CBD. Cannadips is a Humboldt County company that prides itself in carrying on the long standing tradition of setting the standard in CBD products …
Continue reading Cannadips Tangy Citrus CBD Pouches
Add to cart