In stock
Product Description
Made with terpenes derived from the tropically flavored Pineapple Express strains, CBD isolate drops with cannabis derived terpenes help promote relief from stress, depression and pain.
They're a Dr.Ganja fave both for their flavor and effect, making them both delicious and an efficient way to supplement with CBD.
Product Size
30 ml 1000 mg CBD.
Suggested Use
Use sublingually as needed, once or twice daily.
Ingredients
99% Pure hemp derived CBD isolate, coconut oil and cannabis derived terpenes.
Questions & Answers
There are no questions yet. Be the first to ask a question about this product.
Recent Items Viewed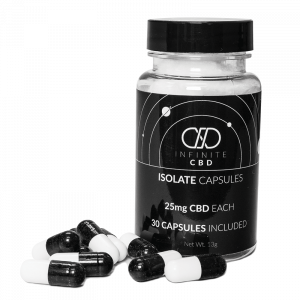 High potency users of CBD will look to Infinite CBD 25mg Capsules as the go to for the daily regimen of CBD. Infinite CBD capsules can provide a great option for someone who's looking to take an exact amount of CBD. In just one CBD capsule, the user will consume 25mg of CBD isolate. A …
Continue reading Infinite CBD Isolate Capsules 30ct 25mg CBD
Add to cart