Product Description
Imbued with an earthy, sweet flavor, Harlequin Terpenes make Infinite CBD Isolate a treat for all the senses.
A high CBD sativa strain that's already known as a bit of a miracle worker, Harlequin's terpenes flavor this high-potency CBD isolate to perfection.
Harlequin Terpenes promotes relief from inflammation, stress, pain and fatigue.
Product Size
1 g 99% pure CBD.
Suggested Use
Dr.Ganja recommends simply placing this CBD isolate under the tongue. Hold it there for 30 seconds, then swallow, to get the best and most potent effects.
You can even mix the isolate into food or drink.
Ingredients
Pure CBD isolate and cannabis derived terpenes.
Questions & Answers
A

In order to mix the isolate into a lotion and for the isolate to dissolve, your lotion would have to be oil based. I would recommend isolate without any added terpenes. CBD topicals are very effective since the skin has CB2 receptors.

A

The amount one consumes per use is different. I would say there are about 20 to 25 dabs per gram.

A

If your pen is suitable for wax concentrates then yes you can use this with your device.

A

Yes, this isolate can be used like wax.
Recent Items Viewed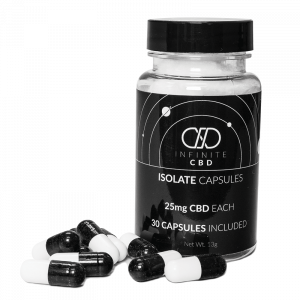 High potency users of CBD will look to Infinite CBD 25mg Capsules as the go to for the daily regimen of CBD. Infinite CBD capsules can provide a great option for someone who's looking to take an exact amount of CBD. In just one CBD capsule, the user will consume 25mg of CBD isolate. A …
Continue reading Infinite CBD Isolate Capsules 30ct 25mg CBD
Add to cart