Product Description
Made with coconut-derived MCT oil, this tincture is an easy way to supplement CBD sublingually, in a form you can take almost anywhere. One of Dr.Ganja's highest recommendations.
Product Size
30 ml 1000 mg CBD.
Suggested Use
Safe for both humans and larger pets; take a half dropper or just 20mg CBD as a dose to start. Then, once you're used to the effects, feel free to test out other amounts. Can be highly effective for anti-anxiety effects, stress relief and other well-known benefits of CBD.
Ingredients
Alcohol-free CBD tincture, made with coconut-derived MCT oil and CBD.
Questions & Answers
A

CBD may help, but there are different forms of depression. It's always best to consult with a physician.
Recent Items Viewed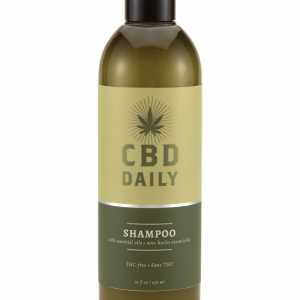 CBD Daily Shampoo combines CBD with Hemp Seed Oil, Peppermint Oil, and Argan Oil to rejuvenate roots as well as moisturize dry scalp. This unique blend will leave your head and hair feeling in its prime condition and is safe with all hair types as well as color-treated hair. This CBD shampoo is 100% Vegan …
Continue reading CBD Daily Shampoo
Add to cart