In stock
Product Description
CBD isolate from Lazarus is an easy choice when it comes to supplementing. The isolate is formulated, extracted and packaged all in the same facility. Plus, this isolate is always manufactured from non-GMO hemp grown locally in Colorado. A Dr.Ganja fave due to the fact that batches typically test at 99%+ CBD.
Product Size
1 g.
Suggested Use
Add CBD isolate to your food or topicals, or simply place under the tongue. For fastest results, hold it there for 30+ seconds before swallowing.
Ingredients
Hemp derived CBD.
Questions & Answers
A

Isolate won't dissolve in VG. You'll need to dissolve the isolate in PG first and then add in VG or flavoring. You'll need to heat the PG lightly in order dissolve the isolate.
Recent Items Viewed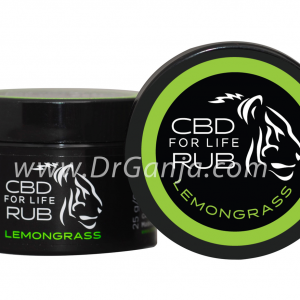 Bring cannabis to the table when you experience aches and pains, and feel the problems melt away. CBD For Life Lemongrass Rub is an excellent delivery system for sore muscle relief, or overall tension. From Dr.Ganja experience, we know that a little of this cannabis-derived rub goes a long way. This product is free of …
Continue reading CBD For Life Lemongrass Rub
Add to cart