Palmetto Harmony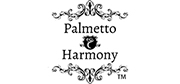 Specialized in Best Organic Hemp Oil Products
The history of Palmetto Harmony is really very touching. Janel Ralph founded the company because she wanted to ensure quality CBD for people like her daughter who have seizures. So, that makes them a rare business founded on a mother's love and determination!
Janel and her company have also lobbied for the nationwide legalization of hemp cultivation. They are obviously big believers in the healing powers of CBD and other cannabinoids distilled from hemp.
Back in 2015, Janel's Palmetto Synergistic Research launched the Palmetto Harmony product line, named after her daughter. Based in South Carolina, they source their hemp from Kentucky, where it is legal to grow. Thus, they import federally compliant hemp, without any stalks or stems, to brew up their own full-spectrum cannabidiol oil.
Palmetto Harmony insists on rigorous third-party ISO certified lab testing protocols for their hemp-based products. The results of their laboratory testing they provide to anyone upon request. They test for cannabinoid content and terpenes, as well as for mold, pesticides, heavy metals, microbials, herbicides and residual solvents. They want consumers to feel confident in ordering and using their merchandise. To ensure safety and healthiness, they only use natural predators instead of chemicals as pesticides.
Their business began to provide better quality CBD products powered by organically grown American hemp. Janel and her company believe that the proper use of their products can lead to a 90% reduction in seizure occurrence. Further, they anticipate an 80% reduction in the need for pharmaceuticals. Their stated desire is to see users and their loved ones live more comfortable and happier lives.
Dr. Ganja currently stocks Palmetto Harmony vaping oil, cream, and capsules.
Palmetto Harmony CBD Products