Out of stock
Product Description
This CBD syrup is deliciously flavored and sweetened with pure Agave Nectar. Made with CBG crumble, it's a full-spectrum treat featuring naturally derived terpenes. The full spectrum CBD syrup is both a novelty and a party favorite.
Product Size
1 oz 100 mg full spectrum cannabinoids per CBD syrup bottle.
Suggested Use
You can drink this syrup straight, mix it with soda, sparkiling or flat water, cocktail or any other liquids. Use it to supplement with CBD in a way that both tastes and feels good.
PhytoFamily Full Spectrum CBD Syrup Blue Raspberry Dr.Ganja
Agave nectar, glycerol, full spectrum hemp crumble, PEG, natural flavor and color, citric acid, malic acid, tartaric acid.
Questions & Answers
There are no questions yet. Be the first to ask a question about this product.
Recent Items Viewed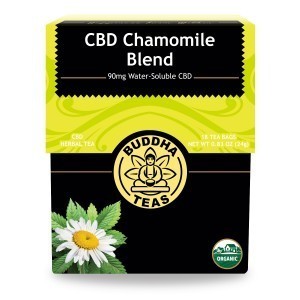 Buddha Teas CBD Chamomile Blend may be the most relaxing cup of tea you've ever had. With chamomile, lemon balm, a little lavender, and 5 mg of CBD per cup, your pathway to bliss has been paved. Unlike some oil-based CBD teas, Buddha uses water-soluble CBD to ensure that all of the CBD in your …
Continue reading Buddha Teas CBD Chamomile Blend
Add to cart