Product Description
Try on a CBD-boosting additive for size. This 15ml bottle contains pure CBD isolate from organic industrial hemp oil, always a DrGanja recommendation. What's particularly cool about this product is that it's flavorless, and can be added to anything from food to other e-liquids for that extra little bit of CBD.
Product Size
15 ml 250 mg CBD.
Suggested Use
Add to your favorite e-liquids. Or, feel free to vape it by itself for a dose of pure cannabidiol, aka CBD.
Ingredients
USP Kosher Vegetable Glycerin, USP Kosher Propylene Glycol, Organic Cannabidiol (CBD) Isolate
Questions & Answers
There are no questions yet. Be the first to ask a question about this product.
Recent Items Viewed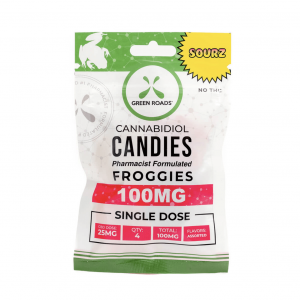 Green Roads CBD Sourz adds a sour twist to their traditional CBD candy for flavor fanatics. Be warned, these gummies are large and packed full with 25 mg of CBD per froggy, for a total of 100 mg per bag. These candies are made through CO2 extraction and are safe, tasty, and convenient. Whether you …
Continue reading Green Roads CBD Sourz Froggies 100mg
Add to cart