Product Description
A flavorless additive for vaping, Sauc 500 mg CBD Vape Additive provides a bonus boost of powerful CBD. It's derived from organic Co2-extracted industrial hemp oil, and is a favorite product — a Dr.Ganja must-try for its flexibility of use and purity of THC-free CBD.
Product Size
15 ml 500 mg CBD.
Suggested Use
Use Sauv vape additive as you would any other: add to another e-liquid of your choice.
Ingredients
USP Kosher Vegetable Glycerin, USP Kosher Propylene Glycol, Organic Cannabidiol (CBD) Isolate
Questions & Answers
There are no questions yet. Be the first to ask a question about this product.
Recent Items Viewed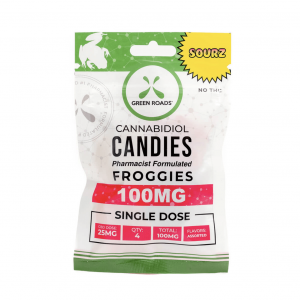 Green Roads CBD Sourz adds a sour twist to their traditional CBD candy for flavor fanatics. Be warned, these gummies are large and packed full with 25 mg of CBD per froggy, for a total of 100 mg per bag. These candies are made through CO2 extraction and are safe, tasty, and convenient. Whether you …
Continue reading Green Roads CBD Sourz Froggies 100mg
Add to cart