Yami Vapor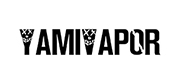 Specialized in CBD E-Liquid Products
Primarily a wholesaler, Yami Vapor does not sell its flavored e-liquids to anyone directly. The only place you can find their products would be web sites like the one you're on now. Though more known for nicotine e-liquids, Yami Vapor's Takumi line offers vaping enthusiasts flavorful CBD.
Takumi CBD products are made from 99% pure CBD isolate with absolutely no THC or nicotine. Other ingredients include propylene glycol, glycerin, natural and artificial flavor extracts, and artificial sweetener.
The 30ml CBD e-juice bottles come in two strengths to suit your cannabidiol dosing needs: 250mg and 500mg potencies. Their vaping liquids work perfectly well in pretty much any and every vaping device. Simply mix the e-juice with another oil or solid you already have loaded or use the e-juice by itself. It can also be taken orally by placing a few drops underneath your tongue.
However you mix it or don't, Yami Vapor promises that you'll get all the reported benefits of vaping cannabidiol. Vaping CBD means you'll feel the full effects within minutes. Many users find CBD ideal for muscle aches, reducing redness and swelling, and anti-anxiety effects that can help with relaxation. The popularity of CBD owes to numerous testimonials regarding its many purportedly positive effects.
And using Takumi CBD is easy to do on-the-go – the small bottles fit easily into your purse or pocket. Simply take out the e-juice and add a drop or two to your favorite portable vaporizer before taking a hit. Or, drop a couple of drops inside your mouth.
Dr. Ganja keeps in stock three varieties of Yami Vapor's Takumi CBD vape juice: Kori, Ringo and Umai.
Yami Vapor CBD Products
No products were found matching your selection.