Aceso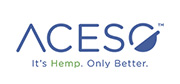 Specialized in Health & Wellness CBD Products
Aceso named their hemp brand after the goddess of healing from Greek myths. As a leading health and wellness company, they focus on providing you hemp plant science solutions. Specifically, they use CBD derived from the hemp plant in their various products. Founded by Dixie Brands in 2015, Aceso Hemp employs the latest methods to extract and blend cannabis plant non-psychoactive components and essential nutrients. Then they use these blends to create highly targeted formulas. Cannabinoids, specifically CBD, and essential nutrients like magnesium, potassium and phosphorus can work together in a coordinated effect, perhaps improving the health of your body and mind.
CBD reportedly works with your own body's natural processes to bring your systems into balance. Aceso designs their Calm, Soothe and Wellness product lines specifically to make it easy for you to do just that. That is their stated goal.
They offer three specialized full-spectrum formulas, each targeting a different set of symptoms. Aceso Calm, for example, may be uniquely suited to reducing anxiety and stress. Their Soothe product, meanwhile, might reduce pain caused by tissue irritation. Finally, Aceso claims that their Wellness formula will superpower your immune system, keeping you hale, healthy and hearty. Each of these hemp CBD options is available as either an easy-to-use spray or in pre-measured drink powder packets.
Drink powder packets are available in two different box sizes: 5 sachets and 30 sachets. Sprays come in one-ounce bottles.
Dr. Ganja carries some of the most popular Aceso beverage powders and oral sprays so that getting your daily dose of CBD is a convenient, painless process.
Aceso CBD Products
No products were found matching your selection.