Product Description
This 30 ml bottle contains 2000 mg CBD total and is the most potent Liquid offering from CBD Genesis and indeed, one of the most potent items on the market. As a full spectrum, unflavored CBD liquid it is versatile in its use as it can be dropped under the tongue, used for mixing, or even used alone.
Product Size
30 ml 2000 mg CBD.
Suggested Use
Can be used on its own but really shines when mixed. Additionally, it can be taken sublingually, or placed under the tongue (start with 1-2 drops under the tongue and increase/decrease dosage as necessary)
Ingredients
Full spectrum CBD oil, emulsifier (polysorbate 80), and vegetable glycerin.
Questions & Answers
There are no answers for this question yet.

Answer now
Recent Items Viewed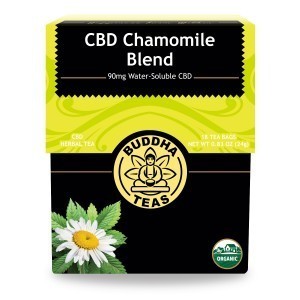 Buddha Teas CBD Chamomile Blend may be the most relaxing cup of tea you've ever had. With chamomile, lemon balm, a little lavender, and 5 mg of CBD per cup, your pathway to bliss has been paved. Unlike some oil-based CBD teas, Buddha uses water-soluble CBD to ensure that all of the CBD in your …
Continue reading Buddha Teas CBD Chamomile Blend
Add to cart