Product Description
If you're looking for a potent, full spectrum CBD tincture, you've come to the right place. This extra strength CBD tincture is made from American grown hemp and contains 1000mg of CO2 extracted full spectrum hemp oil with a coconut oil base.
This tincture can be used sublingually (through the mouth) or can even be applied topically on the skin.
Product Size
15 ml 1000 mg CBD.
Suggested Use
Can be consumed sublingually by placing under the tongue for approximately 1 minute and then swallowed. Start with 1/8th of a dropper, wait an hour before discerning effects, and then increase/decrease dosage as necessary. Can also be applied topically on the skin to areas of inflammation or pain.
Ingredients
Co2 extracted full spectrum hemp oil, mct oil
Questions & Answers
A

This is a full spectrum product and it'll contain a variety of cannabinoids and trace amount of THC which can trigger a positive on a drug test. I would strictly stick to CBD isolate and CBD isolate based oil's. CBD isolate products will only contain CBD as the only present cannabinoid and nothing else.
Recent Items Viewed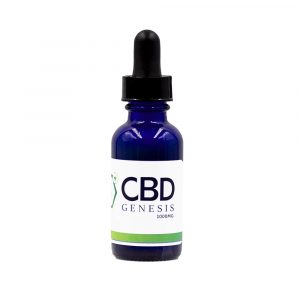 1000 mg of CBD goodness all in a 30 ml bottle, CBD Genesis E-Liquid 1000 mg is one of the more potent offerings from CBD Genesis. This unflavored, full spectrum vape juice is very versatile in its use and is extremely effective. Product Size 30 ml 1000 mg CBD. Suggested Use Can be vaped on …
Continue reading CBD Genesis E-Liquid 1000mg
Add to cart