Tree Top Hemp Co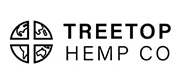 Rated 2.00 out of 5 based on

1

customer rating

$

29.00 Free Discreet Shipping & Easy Returns
You can get quality CBD with delta-8 products from Tree Top Hemp Co. They also create straight delta-8. They make merchandise from the two cannabinoids by partnering with major labs. The cooperative effort results in a variety of dosing methods. This leaves consumers with options for physical and emotional relief.
Combining CBD with delta-8 is the best of both worlds. CBD is known for pain and inflammation management. Delta-8 is great for mood management. Together they work to bring physical and mental balance. And the nice thing is that there's no lasting high. And because there's less than 0.3% THC, everything is legal in most places.
There are many ways to enjoy Tree Top Hemp Co wares. They offer a line of vaporizer carts. They also put out disposable vape pens. Their gummies are another dosing option. Each method has its pluses and minuses. Vaping is quicker but has a shorter span of effectiveness. Edibles last longer but also take longer to kick in.
Quantity isn't enough. Tree Top Hemp Co strives for the safest and most dependable products they can make. 3rd-party lab testing offers independent verification of their claims. Consumers can go online and see the results for themselves. Peace of mind is important when shopping for cannabis products. Shoppers want good effects without contamination.
Doctor Ganja sells all three kinds of Tree Top Hemp Co goods. You can find their vape carts. Or pick up a disposable vape pen. If gummies are your jam, you'll find those too.