Buddha Teas are a company that recognizes the healing properties associated with warm brewed beverages, but it goes so far beyond that. Buddha Teas believes that by delivering additive-free options for teas that customers all over can experience an incredible experience that soothes the mind and soul by drinking what they have to offer.
Buddha Teas pride themselves around the fact that their products are organic, and made from fresh herbs and tea leaves. The company also loves to take a stance on education by providing knowledge and offering the willingness to converse with customers should they reach out about their products.
Blending their delicious flavors with the healing properties that are associated with CBD make the perfect blend for a beverage, which is where Dr. Ganja comes in. Dr. Ganja stocks a few of their most popular CBD-infused tea beverages and brings the power of this liquid to a brand new level of potential.
Showing all 4 results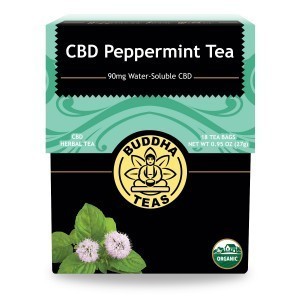 CBD tea with some of the highest quality peppermint leaf available? You betcha. Buddha Teas CBD Peppermint Tea makes one of the most calming cups imaginable, thanks in large part to the high-grade organic peppermint leaf used, as well as the 5 mg of CBD that comes in each tea bag. Unlike some oil-based CBD …
Continue reading Buddha Teas CBD Peppermint Tea
Add to cart