Hemp Bombs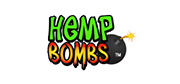 Specialized in Premium CBD Supplements
Hemp Bombs wants to blow you away with their wide variety of CBD-infused offerings! Thus, they make and distribute CBD edibles, vaporizer liquids, oils, topicals and pet products, too. By offering such a wide variety, they feel they can help you find the ideal CBD supplement for your needs. In addition, their other goal is to provide consumers with quality CBD products at an affordable price. Plus, in order to do business, they must meet local, state and federal regulations.
The company wants to build a reliable reputation for offering premium CBD products to customers. Hemp Bombs distills CBD from only American-grown, premium-grade industrial source hemp. They guarantee that their goods are completely free of heavy metals, pesticides and all other contaminants. Their quality control includes oversight of the hemp growing process and then third-party lab testing of their goods. Their packaging includes a scannable QR code so that you can see the third-party test results for yourself.
It is important to them that they provide the consumer high-quality CBD with non-detectable levels of THC. They want to provide the pain relief, inflammation reduction and other reported healing powers of CBD without getting high. Therefore, they commit to using industry-wide good manufacturing practices and established protocols for CBD extraction, manufacturing and packaging. They want you to experience a difference when you use Hemp Bombs' CBD goods.
There are a lot of options out there for CBD consumers. Hemp Bombs hopes you will choose their goods because of their commitment to quality, rigorous testing and affordable pricing.
Dr. Ganja brings you a selection of Hemp Bomb's e-liquid for vaporizers.
Hemp Bombs CBD Products
No products were found matching your selection.