Product Description
This 10 ml syringe of CBD RSO — made with a specially targeted blend of hemp oil and MCT oil to help activate nutrients — is completely vegan and gluten free, containing no artificial flavors, sweeteners or other preservatives. Instead it's a state of the art non-GMO and solvent-free RSO packed into syringes, which makes dosing ultra simple and makes this a Dr.Ganja preferred product.
Product Size
10 ml 1000 mg CBD.
Suggested Use
Not only does the product contain a full 1000 mg of cannabidiol, aka CBD, but it also is easy to use, as it can be mixed into food and beverages or simply placed under the tongue.
Ingredients
Hemp Oil, MCT Oil.
Questions & Answers
There are no questions yet. Be the first to ask a question about this product.
Recent Items Viewed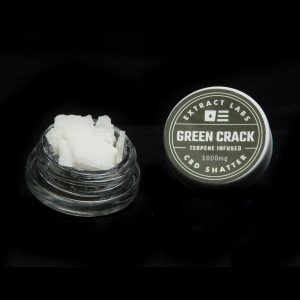 Extract Labs Green Crack CBD Shatter blends flavor with efficacy in a terpene-infused CBD supplement that's off the charts popular. Dr. Ganja especially likes this strain and blend for a sunny afternoon spent working from home. Product Size 1 g 99% pure CBD. Suggested Use You can place it under your tongue and hold for …
Continue reading Extract Labs CBD Shatter Green Crack
Add to cart