Rogue River Labs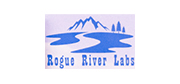 Delta-8 THC is exploding in the cannabis market and Rogue River Labs knows this. Their headquarters is in Rogue River, Oregon. That puts them in the heart of West Coast Cannabis. In such a locale, the company creates hemp-derived delta-8 vaporizer cartridges. Their goal is to bring the benefits of this minor cannabinoid to consumers.
Rogue River Labs sees similarities with delta-8 THC and regular delta-9 THC. Both produce a euphoric high. With delta-8 it's just much milder. There are also parallels with CBD. Delta-8 also has analgesic properties, just like CBD. These cannabinoids all help ease life stresses and pains.
They also concern themselves with educating their customers. Packages break down how delta-8 THC works with the endocannabinoid system. Like normal THC, delta-8 attaches to both CB1 and CB2 receptors. Understanding how the products affect users is crucial to creating effective cannabis solutions. When consumers know how delta-8 work, they can make informed choices about using it.
The company wants to build confidence in their brand. So, Rogue River Labs publishes 3rd-party test results online. Every product has a QR-code on the back scannable by a smartphone. Scanning takes the user to a pdf file with batch test results. There is also a certification that the product is below the legal limit of 0.3% THC. Transparency and reliability are two things that the company is firmly committed to.
Dr. Ganja carries a variety of Rogue River Labs vape cartridges. Flavors available include White Widow, OG Kush and Super Sour Diesel.
Rogue River Labs Products